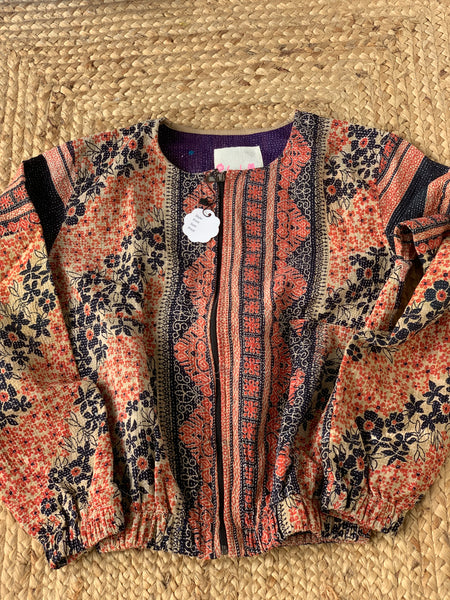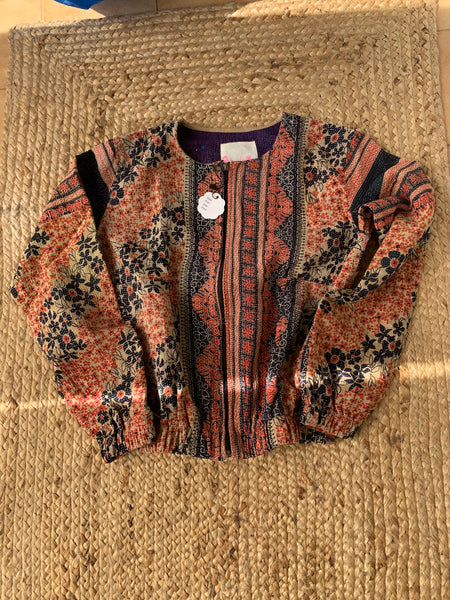 Kantha bomber jacket in vintage cotton textiles no 5
This is a beautiful  jacket  from my ....
be the change you want to see in this world 
collection !
i sourced and receicelt unique and antique 
kantha textiles ( they are originally made as bride gift in every family all havd Stiches beautiful fabrics used as blankets in east Bengal India . Nowadays almost impossible to find  anymore , each piece has soul history love and life .
we are using this kantha fabrics 
Kantha (meaning: "patched cloth") refers to both the tradition of producing these unique, quilted blankets (making something useful and beautiful out of discarded items), as well as the craft and stitch itself (a small, straight running stitch in Bengali embroidery). 
For as many as 500 centuries, poor Bengali women have taken their discarded cloth scraps and sewn them together with a simple running stitch; taking the old and repurposing it into something useful and protective. Far from trend-setting, or even artfulness, kantha was created originally for the most basic and practical purpose: to keep warm.
Over time, kantha developed as a generational skill, a craft that could symbolically impart story, desire, and well-wishing for loved ones & gift recipients. Elaborate kantha were made as wedding gifts or gifts for mothers, with stories and wishes weaved in, allowing illiterate women to leave a lasting mark.
We are proud to use this unique textiles in our 
Slow fashion collection , I hope you understand - love and wear your unique garment with the same passion we put in making some sustainable fairtrade beautiful fashion for you .
Warm and light .
Unique piece size small to medium 
big pockets 
one size  over size style 
each coat exist only once !
inside and outside diff textiles prints .
slow fashion   Recycling  and  fairtrade  
Made with love  unique for you